More efficient than sodding, broadcast seeding, or any other methods of establishing turf or controlling erosion.

FINN T-90
The superior technology of the T-90 Series II HydroSeeder® is the result of extensive research by the Finn Engineering Team. Because they listened to operators and applicators, you'll find that the T-90 Series II offers the ultimate in performance features and operator conveniences.
Learn More →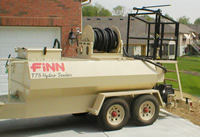 FINN T-75

The FINN T-75 HydroSeeder provides a one-man, one-step process for seeding, fertilizing, and mulching. With its 820 gallon capacity steel tank, cover 8,700-10,500 square feet per load with spray distances up to 150 feet from the discharge gun.
Learn More →
Finn T-60
The FINN T-60 Series II is the ideal 600 gallon HydroSeeder® for the landscaper or contractor who needs an economical machine for seeding smaller jobs. Coverage is up to 7200 square feet per load with seed, fertilizer and mulch in an easy, one-step process.
Learn More →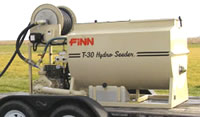 FINN T-30
The T-30 is Finn's smallest and most economical HydroSeeder® ever. With it, you can do professional quality hydroseeding, fiber mulching, fertilizing, straw tacking, foliar feeding, dust control, remote watering and more, efficiently and cost effectively.
Learn More →

"How can we help you today?" Call 1-800-451-8838